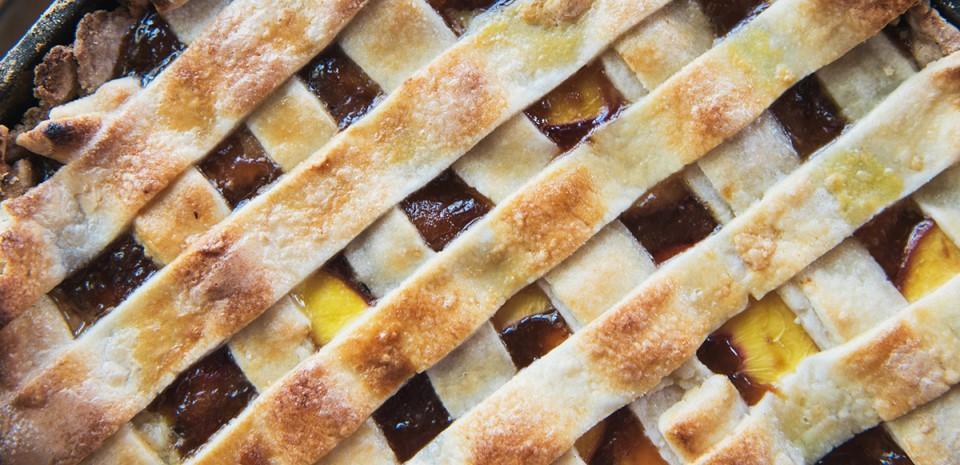 Peach Pie in a Cast Iron Skillet
National Pie Day is a glorious day that falls on January 23rd, every year, thanks to the American Pie Council. This day is the perfect excuse to indulge in many pies. Meringue pie, pizza pie, pumpkin pie, apple pie -  there are endless kinds of pies to choose from. Feel free to stop by your local bakery or your grandmother's house to find a pie to celebrate this day. If you want to take it a step further, then make your own pie from scratch! Follow this recipe from FINEX to make a delicious peach pie in a cast iron skillet. 

Peach Pie in a Cast Iron Skillet
INGREDIENTS
For The Pie Dough
2 cups all-purpose flour
1 ¾ sticks unsalted butter
⅓ cup water
1 tsp salt
1 tbsp sugar
For The Filling
2 tbsp butter, cubed
4 cups peaches, peeled & sliced
½ cup sugar, plus more to sprinkle
½ cup brown sugar
½ tsp cinnamon
¼ tsp nutmeg
¼ cup water
¼ cup amaretto
1 tbsp cornstarch
DIRECTIONS
Combine water, salt, and sugar in measuring cup. Stir and place cup in fridge for at least 15 minutes (to chill water and to dissolve sugar and salt). If possible, chill mixing bowl and paddle attachment if possible. Next combine flour and butter pieces in mixing bowl. Pour the water into the butter mixture and mix until the dough comes together.
Separate the dough into 2 disks. Wrap each with film and chill. Roll 1 disk of the chilled pastry dish out to fit a 8-inch cast iron pan. Reserve the other disk for lattice top. Prick all over dough with a fork. Blind bake on 375F for 10-15 minutes, or until it is lightly golden. Set aside to cool and reduce heat to 350F.
In a

 

FINEX Cast Iron Skillet

 

over medium heat add butter. Add remaining filling ingredients and cook for 6-8 minutes. Once thickened pour filling into the pie crust. Roll out the other disk out to 1/8-inch thick, and cut into 1/2-inch wide pieces at least as long as as the width of the pie. Lay the strips across the pie.
Bake pie for 30 minutes or until golden brown and bubbling.
Recipe provided by FINEX.