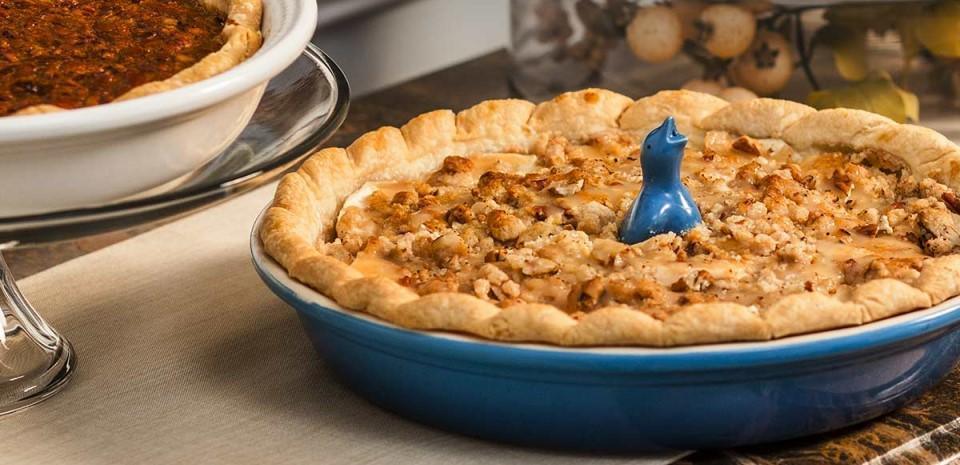 Apple and Caramel Pie Recipe
Pie is a universally loved dessert, and offers so much versatility that there is a pie for everyone. From apple pie to pumpkin pie, blueberry pie to pecan pie, you simply cannot go wrong with pie. Every December 1st, the pie is celebrated for National Pie Day. The best part? National Pie Day is also celebrated on January 23rd, which is the more popular Pie Day, but pie is so good we don't want you to forget about the second time of year you can fully enjoy this delicious dessert. 
To celebrate, follow this yummy Apple and Caramel Pie recipe below!
Ingredients
For the Pastry (double for 2 pies):
350g cake flour
195g unsalted butter, cut into blocks
40g caster sugar
2 egg yolks
60ml cold water
For the Filling (makes enough for 2 pies):
8 red apples, cored and thinly sliced
70g caster sugar
2.5 ml cinnamon
250g caramel sweets
Directions
Combine the flour, butter and sugar in a food processor. Process until the mixture resembles fine breadcrumbs. Add the yolks and chilled water. Process until the dough just comes together.
Turn the pastry out onto a lightly floured surface and knead until just smooth. Shape into a disc, wrap in cling film and refrigerate for 30 minutes.
Preheat the oven to 180°C.
Dust a clean surface and a rolling pin with flour, then carefully roll out your pastry, turning it frequently. Line a pie dish and a small pan with the pastry.
Combine all the ingredients for the filling and use it to fill the lined pie dish and pan. Place Le Creuset Stoneware Pie Bird in center of pie. Decorate the top with pastry, and brush the pastry with a beaten egg. Place in oven and bake for 45 – 50 minutes. Serve with cream and in the Le Creuset Stoneware Pie Dish.
Enjoy!
Recipe from Le Creuset