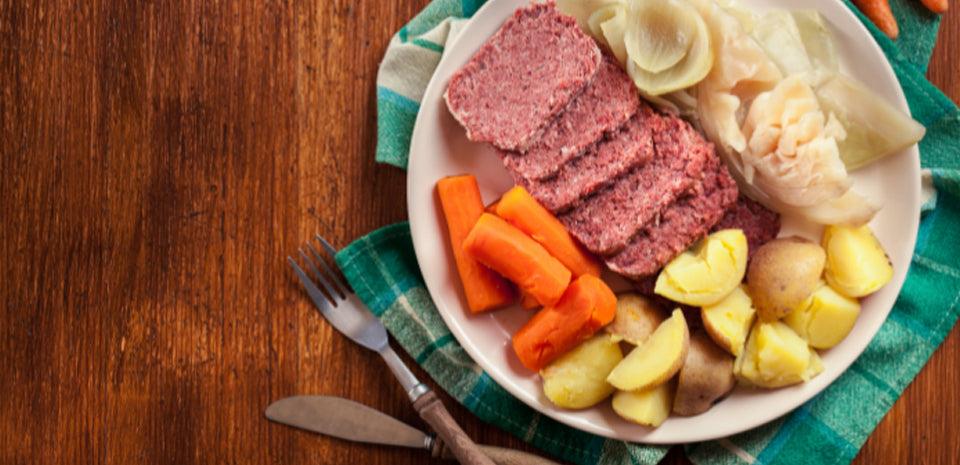 St. Patty's Day Dutch Oven Corned Beef & Cabbage Recipe
St. Patty's Day Dutch Oven Corned Beef & Cabbage Recipe
Everyone's favorite St. Patty's Day meal, this Dutch Oven Corned Beef and Cabbage is loaded with flavor and great all year long. Make it for dinner tonight!
Prep Time: 15 mins
Cook Time: 4 hrs 30 mins
Equipment
Ingredients
4

lbs.

flat cut corned beef with seasoning packet

10

cups

water

1½

lbs

red potatoes

(4-6); halved

10

oz

carrots

(5-7); chopped

2

onions

halved

4

sprigs

fresh rosemary

2

bay leaves

1

head

green cabbage

sliced
Instructions
Rinse the corned beef and place in the Dutch Oven.

Cover with water, about 10 cups.

Bring corned beef to a boil, removing film from surface, about 30 minutes.

Replace any evaporated water: add the spice packet and bay leaves.

Cover and bake for 1 hour.

Reduce the temperature to 300°F and bake for an additional 1½ hours.

Remove one up of liquid; set aside.

Nestle the onions, carrots and potatoes UNDER the corned beef.

Add rosemary sprigs around the vegetables and one on top of the corned beef.

Place the cabbage on top; pour the reserved liquid over the cabbage to moisten it.

Cover and bake for 1½ hours. (See notes)

Remove everything from the Dutch oven; allow the corned beef to rest for a couple of minutes before serving.

Serve with the optional dipping sauce and enjoy.
Dipping Sauce for Corned Beef
Optional dipping Mustard Sauce. 
Mix together:
8 oz sour cream  
2 tbsp dijon mustard
¼ tsp sugar
Tips for making corned beef and cabbage in the Dutch oven
If you like your cabbage completely soft, add it with all the other veggies as mentioned above.
If you want crisper cabbage, do not add it with the other veggies. Replace the lid and bake for an hour. Then remove the dish from the oven, scoop up some liquid, place the cabbage on top, pour the liquid over and resume baking. Covered for 30 more minutes.