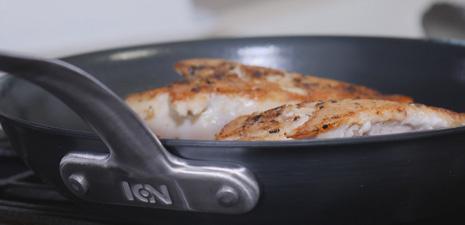 Easy Pan Seared Chicken Breast Recipe
Bring on the Flavor
Let's be honest, cooking chicken breasts with good flavor can be difficult! Though they're known to be dry and flavorless, chicken breasts are a great source of protein. If you're wanting juicy chicken breasts, the best way is through a process called pan-searing. Meaning, you begin the process on the stove and then place in the oven to finish cooking the rest! The best pan-seared breasts have a flavorful crust on the outside while remaining juicy after cooking. It's a great way to cook your protein cooked without a lot of maintenance!
INGREDIENTS
Chicken Breasts
Salt
Pepper
Other seasonings are optional
High-heat oil
DIRECTIONS
Preheat oven to 400° F
Generously salt and pepper both sides of the chicken breasts
Preheat an oven-proof pan with oil inside on medium-high heat
Once the pan is preheated, place seasoned chicken breasts into pan 3-4 minutes per side
Once a golden brown crust is on each side of the breasts, place into oven for 15-20 minutes depending on the size of the breasts.
To ensure your breasts are cooked through, the breasts should have an internal temperature of 165°F. If you don't have a meat thermometer, cut the breast in half to see if there is any pink left. All white is what you want to have. Be careful not to overcook the chicken as this will cause dryness.
Why We Cooked with ICON
For this recipe, we used the ICON 10" Carbon Steel Skillet. We found it cooked similarly to a cast iron pan, but clean-up was easy and the pan's weight was much lighter. Chicken breasts don't have to be bland or flavorless. It might take a few tries to become savvy at perfectly cooked chicken breasts, but with a little time and patience, we know you can do it!
About J.L. Hufford
J.L. Hufford is passionate about providing chefs with quality cookware to enhance their lifestyle. With over 25 years of experience, we continue to strive as a company that serves our customers by providing quality products and exceptional customer service. At J.L. Hufford, we believe it's all about taste. We enjoy helping professional and home chefs find the perfect addition for their kitchen!