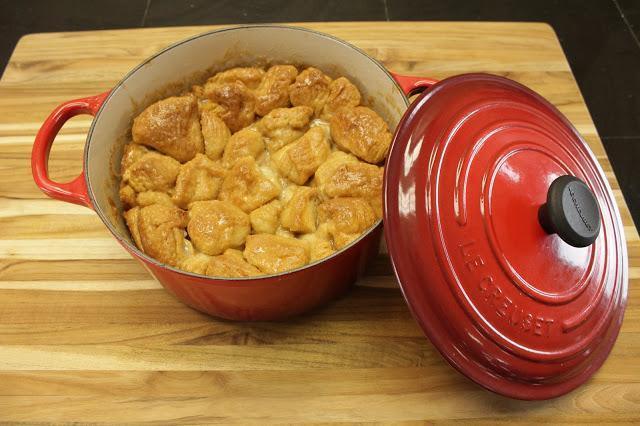 Monkey Bread in a Le Creuset Dutch Oven
Happy Monday! Desserts are always a hit at J.L Hufford-Discover Gourmet and we decided to end last week with a sweet treat. We made a batch of Monkey Bread because it is delicious and very easy. The top features an amazingly crispy crust, while the bottom is a pit of a delicious sweet cinnamon-sugar mixture. To change up the bakeware, we decided to bake the bread inside a 4.5-qt Le Creuset Dutch Oven. Below you'll find the recipe, directions, and the items used in order to make this recipe a smashing success!

Recipe
½ C Granulated Sugar
1 tsp. Cinnamon
2 Cans (16.3 oz each) of Large Flaky Biscuits
1 C Brown Sugar (firmly packed)
¾ cup of Butter-melted
Directions
Heat oven to 350°F.
Lightly grease the 4.5-qt Le Creuset Dutch Oven with shortening or cooking spray.
In large -storage plastic food bag, mix granulated sugar and cinnamon.
Separate dough into 16 biscuits (cut each into quarters). Shake in bag to coat.
Arrange in pan
In a small bowl, mix brown sugar and butter; pour over biscuit pieces.
Bake 30 to 35 minutes or until golden brown and no longer doughy in center. (Bake inside the oven without the lid)
While the bread is baking, prepare the glaze (if desired)*
Cool in pan 10 minutes.
Drizzle glaze on top of the bread
Pull bread apart out of the pot to serve.
Serve warm.

*Glaze Recipe


1 1/2 C confectioners' sugar, sifted to remove any lumps
3-4 Tbsp. milk or water
2 tsp. vanilla extract
Place the sugar in a bowl and gradually stir in the milk and vanilla. Stop once you get a glaze that is smooth and pourable.
Products Used:
Since 1925, Le Creuset has been providing customers with high-quality cookware for their kitchen. Their products are handmade by French artisans to ensure strength and durability. This Dutch Oven features enameled cast iron, which distributes and retains heat evenly to eliminate hot spots as you bake. The oven's excellent heat distribution properties baked the bread evenly. The Le Creuset Dutch Oven was wonderful for baking the bread. Enameled cast iron evenly distributed the heat amongst the bread to get consistent results. Afterward, cleaning was manageable. The cinnamon-sugar mixture was stubborn after sitting for a while. We soaked the oven with soap and water for a few minutes and after that, cleaning was very easy.
Wolf Gourmet's Countertop Oven was wonderful for baking the bread. Besides baking, the oven's intuitive design features five other cooking modes such as proof, warm, roast, broil, and toast. It also features three adjustable rack heights to fit your cookware. The oven's powerful fan produces high-volume airflow that circulates the heated air, creating uniform results while it bakes.
We don't have a full-size stove or oven in our warehouse. Last year, we began using this oven in place of one. Needless to say, it's a fantastic machine everyone loves to use. Employees use it to make paninis, pizzas, etc. for their lunch. The convenience and consistency of the oven are what we love the most.


To summarize, this recipe is delicious and easy to feed a crowd. Using the Le Creuset Dutch Oven created a crispy, sweet bread that tasted amazing. Our employees could not get enough of it! For more questions regarding the products used, please visit our
website
. Our site has hundreds of products to fit your kitchen's needs. Whether it's cookware, serve ware, cutlery, etc. we are here to help!