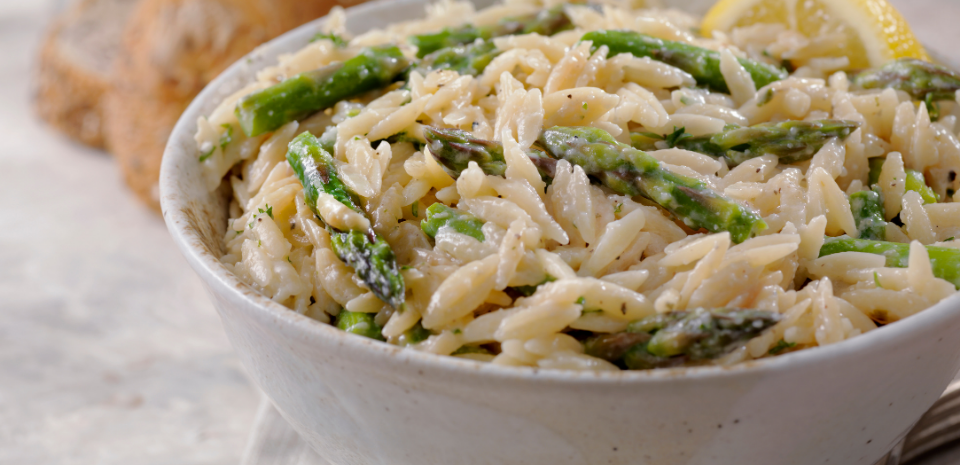 Creamy Spinach Parmesan Orzo
Dec 07, 2020
Recipe Favorites
Creamy Spinach Parmesan Orzo
This pasta dish makes weeknight dinners a breeze. It is super easy to do this all in one pot making cleanup even faster. This creamy, gooey pasta gives hints of mac and cheese or alfredo but with a healthier twist still ensuring your family will love it! If you're looking to add extra protein to the dish it pairs fabulously with roasted shrimp, pan-seared salmon, pork chops, or chicken! It is such a delicious dish that the spinach can be substituted for almost any other vegetable or you can add more than one into the dish! Creamy Spinach Parmesan Orzo will quickly become a staple in your house for some delicious dinners.
Ingredients:
Produce
2 cups Baby spinach, packed or 2 cups chopped Asparagus
2 cloves Garlic
1 Yellow onion, small
2-3 Chicken Breasts (optional)
Canned Goods
2 cups Chicken or vegetable broth, low-sodium
Pasta & Grains
Baking & Spices
1 Black pepper, Freshly ground
1 Kosher salt
Oils & Vinegars
Dairy
1 cup Parmesan cheese
2 cups Whole milk
Directions:
Vegetarian · Serves 4-6 · A recipe for quick and easy creamy orzo pasta made with spinach and Parmesan cheese. It's a perfect vegetarian dinner or simple side.
If you are planning to add chicken to the meal, I suggest cooking it first. Heat a little bit of butter or oil in the bottom of your Le Creuset Dutch Oven pan or pot. Cut the chicken breasts into one-inch cubes and season with a little bit of garlic powder, some dried oregano, dried parsley, seasoning salt, and a pinch or two of pepper. Once the chicken has cooked remove it from the pan and set aside. Keep any juices from the chicken in the bottom of the dutch oven pan as it will add even more flavor to the Orzo!
If you would like to substitute asparagus for spinach, cut the asparagus stems into thirds and steam.
Heat the oil in a large Dutch oven or pot over medium-high heat until shimmering. Add the chopped onion and sauté until softened and fragrant, about 3-5 minutes. Add the garlic and orzo, season with salt and pepper, and sauté until fragrant, about 1 minute.
Stir in the broth and milk and bring to a boil. If you have decided to add the chicken to the meal, I recommend using chicken broth rather than vegetable broth. Cover the pot, reduce to a simmer, and cook, stirring occasionally until the orzo is al dente and most of the liquid is absorbed and has formed a creamy sauce. This will be about 10 minutes or the time according to package instructions. (If the orzo isn't completely cooked once this has happened, you can add another splash or two of broth to the pot and continue to simmer until it has.)
Stir in the chicken pieces. Stir in the spinach and parmesan until the spinach has just wilted and the cheese melts, about 1 minute. Taste and season with salt and pepper as needed. Garnish with additional cheese and parsley if desired.
If you choose to substitute frozen spinach for fresh spinach, thaw the frozen spinach while the orzo is cooking. Make sure to press out any extra liquid from the spinach so the creamy orzo dish does not get too watery.