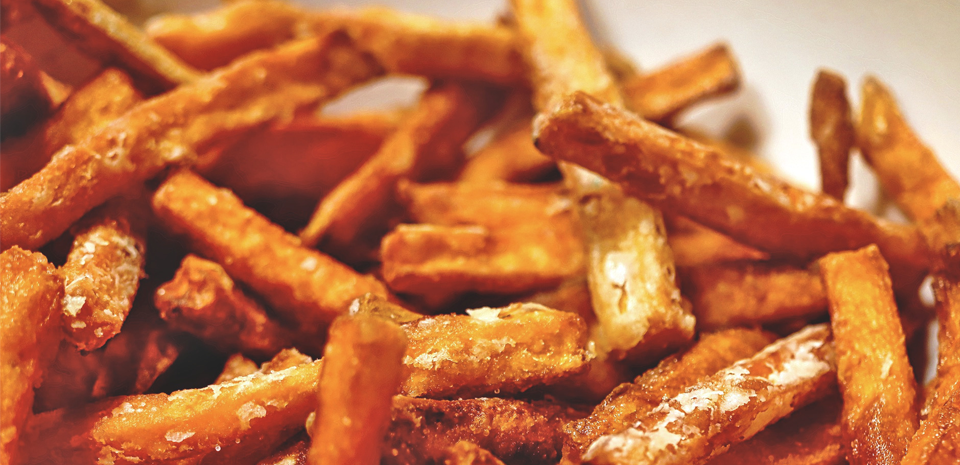 Easy Air Fryer Sweet Potato Fries & Poutine Recipe
Mar 03, 2022
Recipe Favorites
A perfect substitute for traditional sweet potatoes is to make sweet potato fries & poutine. This is a quick & easy side dish or snack to make for someone short on time, but who loves the taste of a home-cooked meal!
Ingredients
1 large sweet potato

1 tbsp of vegetable oil (or prefered oil)

2 tsp of sea salt

½ tbsp of cinnamon

2 tbsp of butter (melted)

¼ cup of brown sugar
Directions
The first step is to make the fries. You can peel your potato or leave the skin on according to your preference.  The next part is to cut them thin and even strips like french fries. Although sweet potatoes do not need to be soaked in water to gain texture, placing them in an ice water bath for a few minutes helps get rid of the excess starch and make them extra crispy (just be sure to dry them before cooking). 
The next step is definitely my favorite. Seasonings! Because sweet potatoes are naturally well… sweet they have endless options for flavors. After thinly coating with an oil of your choice, put in about two teaspoons of sea salt, and a half tablespoon of cinnamon. 
All that's left to do is throw them in the air fryer and have them cook for about ten minutes or use the fry preset. I have and use the Zavor crunch air fryer oven and it works perfectly. I also love that it has two racks to cook on; I have enough room to cook enough for my roommates or the main part of my meal. 
While the fries cook, I get my sauce ready. For the poutine, mix 1 part butter to 2 parts brown sugar. Completely melt your butter and then slowly mix in the brown sugar until all of the clumps are completely dissolved. Pour over your sweet potato fries or serve in a separate dish as a dip. Now all that's left to do is enjoy!