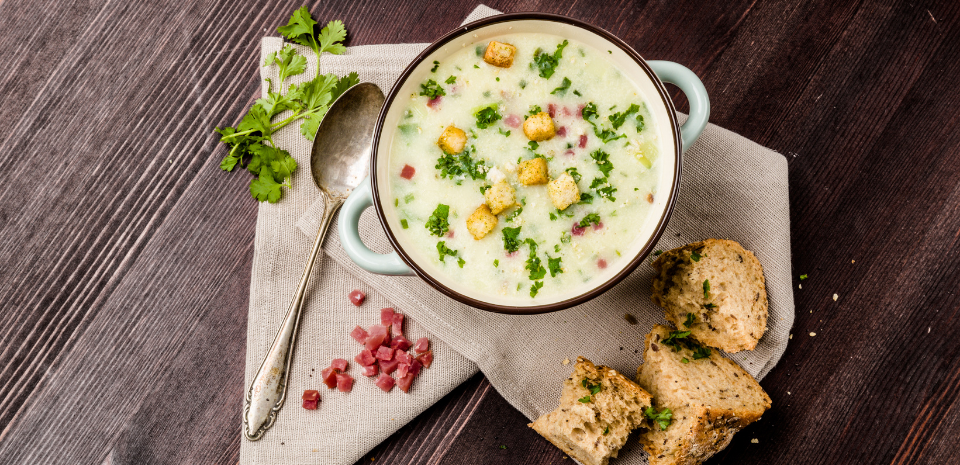 An Easy and Delicious Ham and Potato Soup Recipe
Feb 01, 2022
Recipe Favorites
An Easy and Delicious Ham and Potato Soup Recipe
I absolutely love a good hearty and creamy soup. It can be difficult to find a recipe for a homemade soup that is both healthy and flavorful. Not to worry, this Ham and Potato soup does just that! This soup is so versatile, feel free to add in extra veggies too! I recommend peas or carrots. These fresh ingredients give it so much flavor while being creamy and cheesy. The best part? It can be made on the stove or in the crockpot.
Ingredients
2 Yukon Golden Potatoes, about 4 medium potatoes
5 tbs unsalted butter, separated
1 small yellow onion, diced
1 stalk celery, diced
1/4 cup flour
3 cloves garlic
3 cups low sodium Chicken broth
2 cups half and half, plus a few extra splashes
1/2 tsp Thyme
1/2 tsp onion powder
1 pinch ground sage
1 bay leaf
2 cups ham, diced
2 cups shredded cheddar cheese
2 tbs chives, to garnish
Stovetop Directions
Shred the cheese from a block, measure out the half and half. Let them all sit out at room temperature.
Peel the potatoes and cut them into 1-inch cubes. Add to a stock pot and cover the potatoes with 1 inch of water. Add the salt and boil gently for 10 minutes or until very fork tender. Drain, then gently mash. Stir in 2 TBS Butter and a splash of half and half. Set aside.
While the potatoes boil, melt the 3 TBS butter in a large soup pot and add the onions and celery. Sauté for 5 minutes. Add the garlic, ½ tsp dried thyme, ½ tsp onion powder, and a pinch of ground sage. Cook for 1 minute.
Add the flour and use a silicone spatula to stir for 1 full minute to remove the raw flour taste.
Add the chicken broth and bay leaf. Slowly stir in the half and half. Bring to a boil, reduce to a simmer.
Add the mashed potatoes and stir them until combined into the soup. Discard the bay leaf.
Remove from heat and use an immersion blender to blend the broth until very creamy and combined. You can also use a blender and blend in batches. Blending is optional but makes the soup so thick and creamy.
Add in the diced ham and stir to combine. Let it simmer for 10 minutes or until ready to serve.
Turn off the heat. Sprinkle the cheese gradually over the warm (not hot!) base and stir until melted and combined. Taste and season with salt/pepper if desired.
Garnish with chives and serve!
Crockpot Directions
Lightly boil cubed potatoes. Drain and combine with 1 TBS butter and a splash of half and half. Mash gently.
Sauté the onions and celery in 3 TBS Butter. Add garlic and seasonings and cook for 1 more minute. Toss with flour, cook for 1 more minute.
Transfer to the Slow Cooker.

 

Add the chicken broth, ham, and mashed potatoes. Stir until well combined.
Cook on

 

high for 3-4 hours

 

or on

 

low for 7-8.
Temper the half and half in the microwave until warm. Slowly add it to the Crock Pot, stirring as you do so. Use an immersion blender to mix until smooth and well-combined.
Remove from heat. Slowly sprinkle in the shredded cheese and stir to combine until smooth.
Garnish with chives and serve!