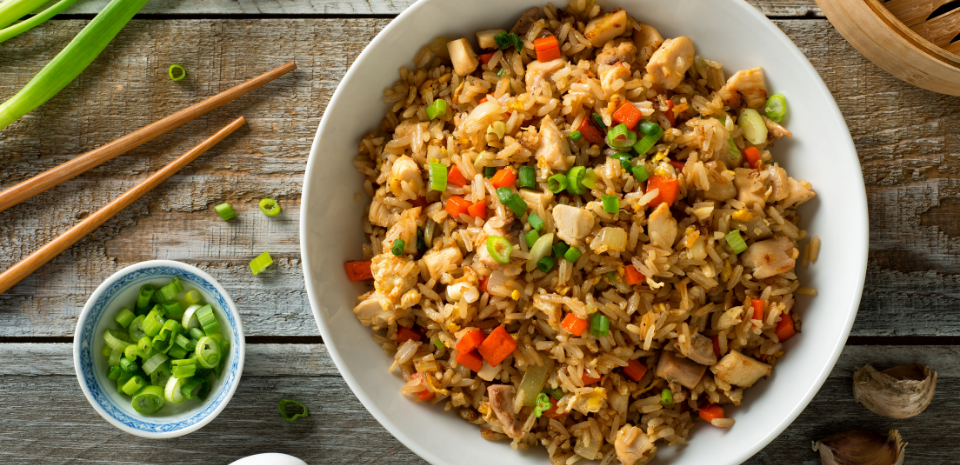 Easy (and Healthy) Pressure Cooker Fried Rice
Jan 12, 2021
Recipe Favorites
Easy (and Healthy) Pressure Cooker Fried Rice
Fried rice is always a family favorite when going to a Chinese restaurant so why not bring that family favorite home? It can be complicated and time consuming to make it on the stove but with your pressure cooker it will be faster and create less for you to clean up. This easy and few step recipe makes cooking fried rice at home so much easier! With a simple switch of the meat, you will have a completely different meal, or no meat at all makes this a great vegetarian recipe. The best part, home cooked fried rice also makes for a delicious and healthy lunch the next day!
Ingredients:
2 chicken thighs, boneless and skinless
2 carrots, medium
3 garlic cloves
1 cup onion chopped
1 cup peas frozen
2 eggs, large
3 tbs soy sauce
1 cup basmati rice
½ tsp sesame oil, toasted
3 tbs vegetable oil
1 cup chicken stock
Black pepper to taste
Directions:
Step 1:
Heat oil in pressure cooker, scramble eggs and transfer from the pot.
Step 2:
If using frozen peas, add frozen peas now into the pot, cook for about 1 minute until thawed, then transfer from pot.
Step 3:
Add a little more oil for freshness, sauté chicken, onion, and garlic
Step 4:
Add rinsed and drained rice, then sauté for about 20 seconds
Step 5:
Stir in chicken stock and chopped carrots
Step 6:
Cook according to the rice setting on your pressure cooker
Step 7:
After the rice has cooked, add all ingredients back into the pot, serve and enjoy!
Get your Granite Ware Pressure Cooker here!