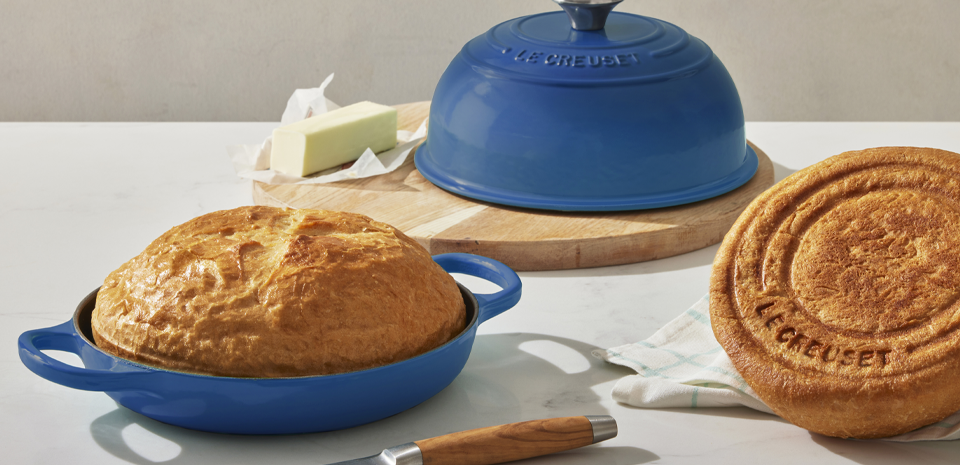 Basic & Easy Bread Baking Recipe for the Le Creuset Bread Oven
Mar 15, 2022
Recipe Favorites
Basic & Easy Bread Baking Recipe for the Le Creuset Bread Oven
Serves: 1 round loaf
Cook Time: 3.5 hours
Ingredients:
• 4 cups (550g) all purpose or bread flour
• 1 teaspoon (7g) kosher salt or coarse sea salt • 1 teaspoon (4g) instant yeast
• 1 1/2 cups (360g) warm water (between
90°F-100°F)
• Olive or vegetable oil
Directions:
Whisk together the flour, salt and yeast in the bowl of a stand mixer or large mixing bowl. Add the water and stir on low speed with the dough hook attachment for about 1 minute (or stir with a spatula). Increase speed to medium and knead until the dough is smooth and elastic, about 8-10 minutes (or alternately, knead by hand). Every few minutes, stop the mixer and scrape the dough off the hook and sides of the bowl. When the dough appears smooth, cut off a small piece and stretch it. If it stretches to the point of transparency, it's kneaded enough. If not, continue kneading.
Remove the bowl from the stand mixer and cover it with a pot lid or plastic wrap. Allow the dough to rise until it has doubled in size and does not spring back when you push your finger into it, about 1 1/2 ― 2 hours (less if it's hot and humid, more if it's cold).
Turn the dough out onto a lightly floured work surface and knead about 1-2 minutes to release the gas. Shape the dough roughly into a ball, cover with a clean towel, and let rest for 10 minutes.
Cup your hands around the dough and shape it into a tight ball by rolling it on the work surface between your palms. Lightly brush the base of the Bread Oven with oil. Place the dough in the center of the base and cover with the lid. Allow the dough to rise again until roughly doubled in size and when poked with a finger will slowly spring back, about 30-60 minutes.
During the last 15 minutes of rising time, preheat oven to 450°F. When ready to bake, score the bread with a sharp knife or razor, making an X or a hash mark to allow the dough to expand freely. Cover and place in the hot oven.
Bake for 30 minutes. Remove the lid, reduce the oven temperature to 375°F, and continue baking for an additional 15-20 minutes until the bread is golden brown and cooked through. It should have an internal temperature of approximately 200°F when done. Carefully remove the bread from the base and allow to cool on a rack for at least 30 minutes before slicing.