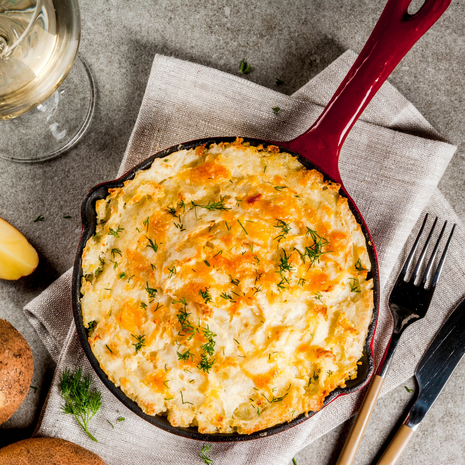 The Best (and easiest) Shepherd's Pie
It's finally fall and one of my personal favorite parts of fall is getting to make (and eat!) all of those hearty recipes that are a little too much for your summer menu. This Shepherd's Pie Recipe is an easy go-to for a throw it all in kind of dish. It's the perfect meal when you're craving veggies but also want filling meat and potatoes. I like to use ground beef when I make this, but it is just as delicious with lamb, turkey, or chicken!
Serves 9
Ingredients:
1 lb Ground Beef
½ bag Frozen Green Beans
½ bag Frozen Carrots
¼ bag frozen corn (I prefer to use a couple ears of fresh corn)
¼ bag Frozen Peas
1 Medium Onion
2-3 cups Shredded Cheddar Cheese
3 lbs Potatoes
½ c Milk
½ stick Butter
3 tbs Sour Cream
1 tsp Garlic Powder
1 tsp Onion Powder
2 tsp Seasoning Salt
½ tsp Parsley
Salt & Pepper to taste
Directions:
Peel and boil your potatoes until tender when poked with a fork. Once tender, drain the potatoes and put back in the pot. Mash the potatoes until smooth then add your milk, butter, sour cream, and a pinch of salt. Set this aside, you'll need it later.
While the potatoes are boiling, add your ground beef to a skillet and brown it. Add all of your parsley and half of your seasoning salt, garlic powder, and onion powder to the meat to ensure it is full of flavor.
Add all of your peas, corn, carrots, green beans, and onions to a separate pan and sauté. Make sure to add the remaining garlic powder, onion powder, and seasoning salt to the vegetables while they are cooking.
After your meat is browned, potatoes are mashed, and veggies are sautéed, combine the meat and veggies into one dish. Take a 9 x 13 cake pan, grease, and pour all of your meat and vegetable mix into the bottom of the cake pan. Once this is done and you have flattened it out, add your mashed potatoes on top. Make sure that the potatoes cover all of your meat and vegetable mix. Top the mashed potatoes with your shredded cheese. Once this is done, take your package of crescent rolls and lay it on top. Make sure that the triangles of the crescent rolls are pushed back together, rather than separated, to make one flat layer. With a little stretching of the dough, it will cover the entire pan. I have found that putting a little water on my fingertips helps the dough stick together more and stretch a bit easier.
Bake this at 375 for 12 minutes or until crescent rolls are golden.
Enjoy!