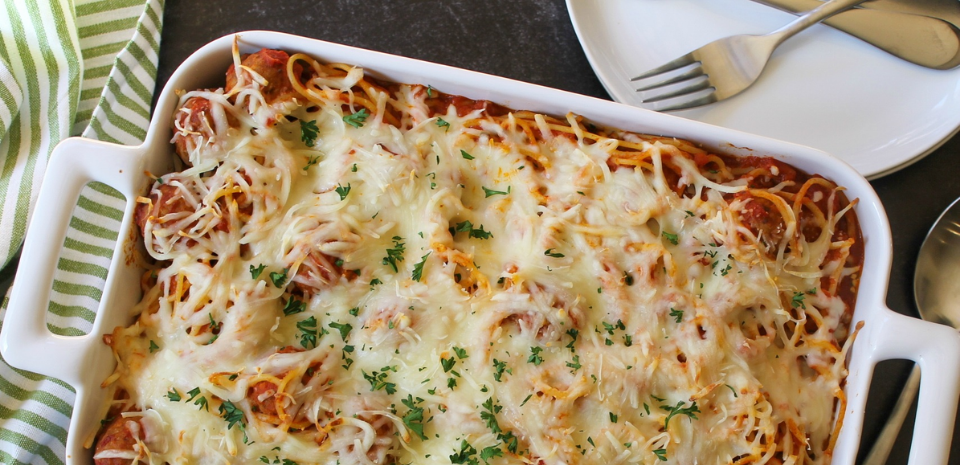 It's National Spaghetti Day!
Spaghetti Pie Casserole
It's National Spaghetti Day so of course, the only right way to spend it is with spaghetti! To make it even more special, I decided to put a twist on the classic spaghetti and instead use this baked spaghetti recipe. I love casseroles and pasta, so combining these two things was a no brainer for me. It is such a simple dinner recipe that it is perfect for those nights you want something quick and easy!
Ingredients
1 package (8 ounces) spaghetti
1 pound ground beef
1 small onion, chopped
2 garlic cloves, minced
1 jar (14 ounces) spaghetti sauce
1/2 teaspoon salt
1/4 teaspoon pepper
3 ounces reduced-fat cream cheese
1 cup reduced-fat sour cream
3 green onions, chopped
1-1/2 cups shredded cheddar-Monterey Jack cheese
Directions
Cook spaghetti according to package directions; drain. Meanwhile, in a large skillet, cook the beef, onion and garlic over medium heat until beef is no longer pink, 6-8 minutes, breaking up beef into crumbles; drain. Stir in the spaghetti sauce, salt and pepper; bring to a boil. Reduce heat; simmer, uncovered, for 20 minutes, stirring occasionally.
In a small bowl, mix cream cheese and sour cream until blended; stir in green onions. In a greased 11x7-in. baking dish, layer the spaghetti, cream cheese mixture and meat mixture. Top with shredded cheese.
Bake, covered, at 350° for 25 minutes. Uncover; bake until cheese is bubbly, 5-10 minutes longer.