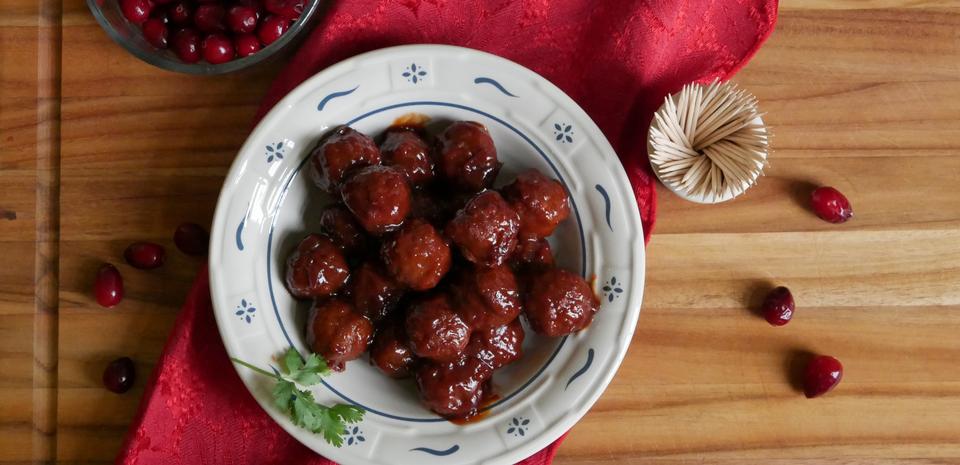 BBQ Cranberry Meatballs
Hors D'oeuvre: An appetizer or starter dish, typically served before the meal.
Hungry guests can make for a long dinner party. Wrena has a simple and quick solution for and hor d'oeurve that will please a crowd. These BBQ Cranberry Meatballs perfectly combine sweet and savory in one dish.  Cranberry sauce is a favorite this time of year and mixing it with a spicy BBQ sauce, you've crafted a one-of-a-kind dish. Using toothpicks to serve makes it even more low-maintenance. Check out Wrena's step-by-step video to see how to make these meatballs. Plus, we have the recipe below!
2/3 C. Sugar
1/2 C. Orange Juice (no sugar added, or fresh squeezed)
1/2 C. Water
1/4 tsp. Ground Cinnamon 
One 12 oz. bag of cranberries
One 17 oz. bottle of your favorite spicy BBQ sauce
Two 14 oz. packages frozen meatballs, or 55-60 of your own homemade meatballs.
In a medium saucepan, combine sugar, orange juice, water and cinnamon and stir until sugar is dissolved. 
Add cranberries and bring mixture up to a simmer over medium heat and cook (approx. 15 minutes)
Add BBQ sauce and mix well. 
Add meatballs and stir to coat them completely. 
Cook on medium-low heat, covered,  for approx. 15 minutes. 
Remove the lid and continue to cook, stirring occasionally,  until the sauce is reduced, coating the meatballs completely.
Serve immediately.
Quick and easy, keep your guests from going hungry with this great appetizer. Trust us, once they have one, they'll be asking for more! We used the
American Clad Sauce Pan
as the 
7-ply construction evenly distributed heat, allowing the meatballs to cook evenly while diminishing the chance of burning.
J.L. Hufford-Discover Gourmet
is committed to providing a wide variety of gourmet cookware to produce delicious meals. No matter what skill level you're at, we believe cooking with high-quality cookware is the key to great-tasting food.