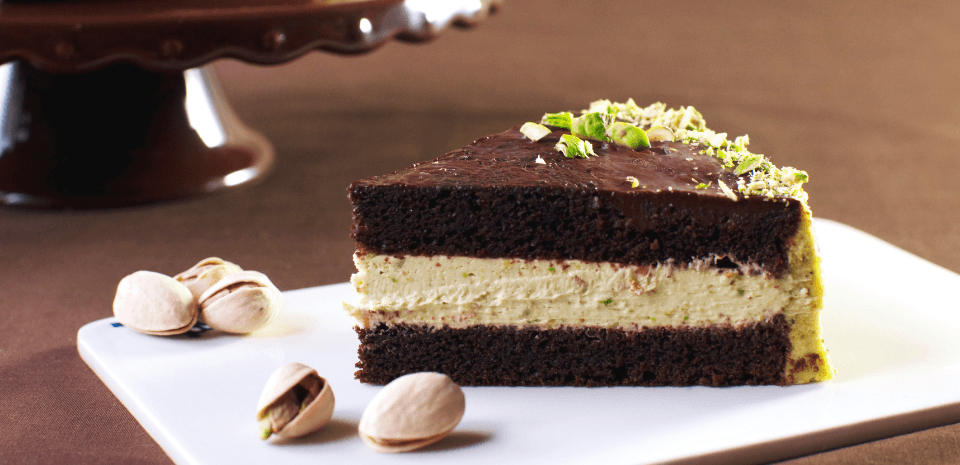 The Bigger (and Better) Salted Texas Chocolate Sheet Cake
Feb 26, 2021
Special Holidays
It's the day to celebrate Pistachios! We've already given you an amazing recipe for pistachio ice cream but if you are looking for an even bigger way to celebrate, add this Salted Texas Chocolate Sheet Cake to your list. By the flavor and looks of this cake, everything is bigger (and better) in Texas! Topped with pistachios, this sheet cake makes the perfect dessert for any occasion, not just National Pistachio Day. Make sure to pair it with the homemade pistachio ice cream for the perfect dessert.
Cake
1 cup (2 sticks) unsalted butter, cut into pieces, plus more to grease baking dish
2 cups all purpose flour, plus more for baking dish
¼ cup unsweetened cocoa powder
2 cups sugar
1 tsp baking soda
1 tsp kosher salt
2 large eggs
½ cup buttermilk
1 tsp vanilla extract
Frosting
¼ cup (1/2 stick) unsalted butter)
3 tbs whole milk
2 tbs unsweetened cocoa powder
1 ½ powdered sugar
1 tsp vanilla extract
½ cup chopped unsalted, roasted pistachios
1 tsp flaky sea salt
Directions
Step 1
Preheat oven to 350°. Butter and flour a 13x9" baking dish. Bring cocoa powder, 1 cup butter, and 1 cup water to a boil in a small saucepan; remove from heat.
Step 2
Meanwhile, whisk sugar, baking soda, salt, and 2 cups flour in a medium bowl. Make a well in the center. Add eggs, buttermilk, and vanilla to well. Blend with a fork, then gradually incorporate dry ingredients. Add butter mixture and whisk until smooth. Scrape batter into prepared baking dish and smooth top.
Step 3
Bake until cake starts to pull away from edges of dish and a tester inserted into the center comes out clean, 35–40 minutes. Transfer pan to a wire rack.
Frosting
Step 1
Just before cake has finished baking, heat butter, milk, and cocoa powder in a medium saucepan over low heat, whisking occasionally, until butter is melted and mixture is smooth (do not let boil). Remove from heat and whisk in powdered sugar and vanilla.
Step 2
Pour warm frosting over warm cake and spread out and smooth with an offset spatula. Top with pistachios and sea salt.
Step 3
Serve slightly warm or at room temperature and enjoy with homemade pistachio ice cream!