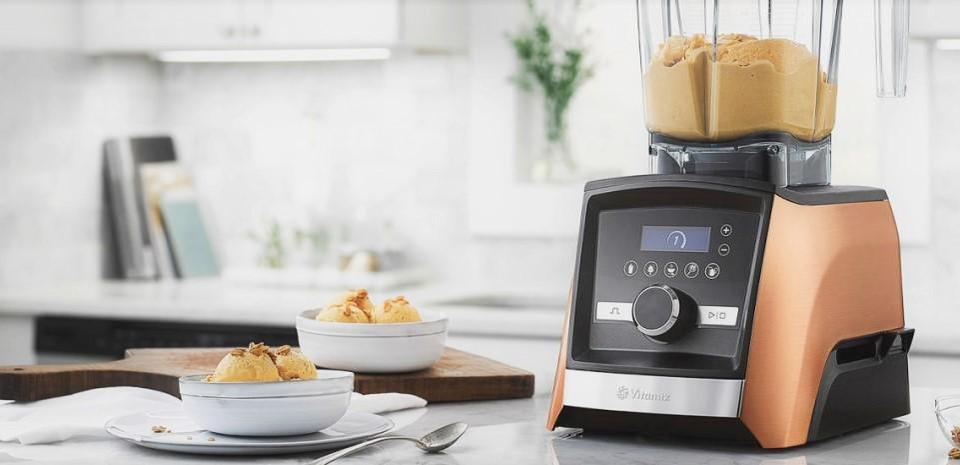 National Ice Cream Cone Day
Sep 21, 2020
Special Holidays
The ice cream cone's invention has been debated about for years, but it gained its popularity at the St. Louis World's Fair in 1904, when over fifty booths sold their ice cream in ice cream cones. People are thankful that the delicious crisps of sugar exist to hold their favorite flavor of ice cream, and every September 22nd we celebrate National Ice Cream Cone Day.
Celebrate by getting an ice cream cone, posting online with #IceCreamConeDay, and doing what many people are doing. If you want to be a little different, try making your own ice cream cone and ice cream in your own home!
Ingredients
1 cup (240 ml) milk
½ cup (50 g) unsweetened cocoa powder
½ cup (100 g) granulated sugar
½ cup (35 g) non-fat dry milk
1 teaspoon vanilla extract
4 cups (520 g) ice cubes
Directions
Place all ingredients into the Vitamix container in the order listed and secure lid.
Select the Frozen Dessert button on the blender.
Turn machine on.
In about 45 seconds, the sound of the motor will change and four mounds should form.
Stop machine. Do not over mix or melting will occur. Serve immediately.
ICE CREAM CONE RECIPE
Ingredients
1/2

 

cup

 

(4 oz/115g) sugar

3

 

tablespoons

 

whole milk

1/2

 

teaspoon

 

vanilla extract

pinch

 

salt

⅔

 

cup

 

(3 ⅓oz/100g) all purpose flour, sifted

2

 

tablespoons

 

(1oz/30g) butter, melted

melted semisweet chocolate

Sprinkles

Toasted nuts
Instructions
Place egg whites, sugar, milk, vanilla, and salt into a mixing bowl and whisk together. Stir in flour and butter until fully incorporated and batter is smooth.

Place a nonstick skillet, cast iron pan or frying pan on low heat.

Pour 1 ½ tablespoons batter into the warm skillet and spread into a thin even layer. Move it around fast to get a nice round shape. Spread it out roughly 6 inches x 6 inches.

Place skillet over medium heat and cook for 4 to 5 minutes or until base has set. Flip and continue to cook for 1 to 2 minutes.

Lift the disc off the griddle and QUICKLY and carefully roll from the bottom of the cone to shape it. Pull out the shape at the top to make it a wider cone. If you can lay the cone onto a clean towel and roll into a cone shape and hold, seam side down for 1 to 2 minutes or until cone cools and hardens. (this must be done quickly as the disc will begin to harden almost immediately after leaving the skillet)

Tip: Focus on rolling the bottom of the cone first and that makes it easier to shape the rest of the cone. Take care not to roll it tight, you want a night opening on top to fill with ice cream.

Dip the cones in chocolate and cover in nuts or sprinkles. Set the cones on parchment until the chocolate hardens.

These cones are best eaten the day they are made. If you have any left over carefully store in an airtight container for up to 2 days.
Let us know how your cone turns out by using the hashtag #IceCreamCone Day and tagging us @jlhuffordonline on Instagram!