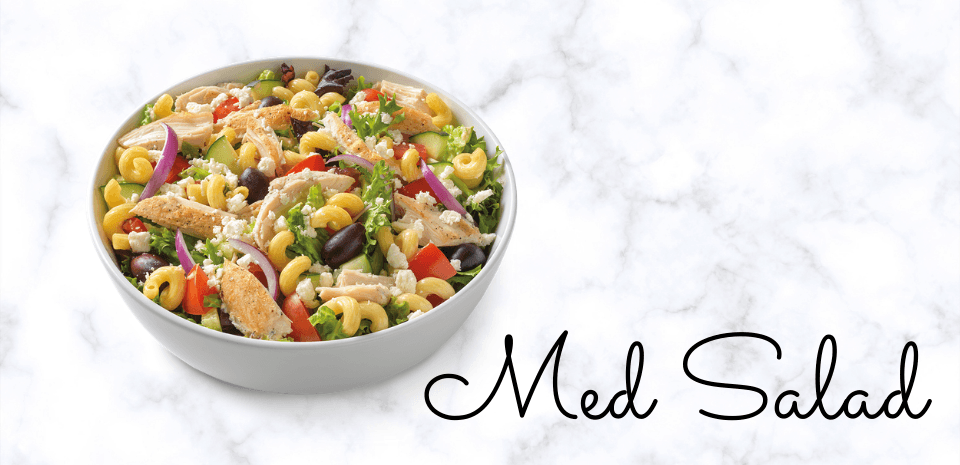 Summer Mediterranean Salad
Jun 11, 2021
Vegetarian & Vegan
Summer Mediterranean Salad
This salad is one of my all time favorite recipes and my absolute go-to! I probably have this Med Salad at least once or twice a week. It is so easy to make with only a few ingredients, and leaves you full for hours! I used to always get the Mediterranean salad from Noodles & Company until I decided to make it at home, and it was even better than the store bought Med Salad.
If you're wanting to switch it up a little, try adding in tomatoes, cucumber, or even chicken!
Ingredients:
1/2 Red onion sliced into 1 inch pieces
1/2 Sweet bell pepper
2-3 Cups fresh spinach
1 Tablespoon fresh low-fat feta cheese
1/3 Cup rotini or penne noodles
1 Teaspoon vegetable oil
2 Tablespoons green goddess salad dressing
Directions:
1. Boil a small pot of water and add in your pasta. When it is just above al dente and tender, drain and rinse with cold water.
2. Slice the red onion into 1 inch pieces, do not dice. While you are doing this heat up your vegetable oil in a small pan. Once oil is heated, add in the red onion and sauté until tender.
3. While the pasta and onions are cooking, dice the pepper. 
4. Add your spinach to a bowl then add in the peppers, onions, feta cheese, pasta, and a drizzle of salad dressing.