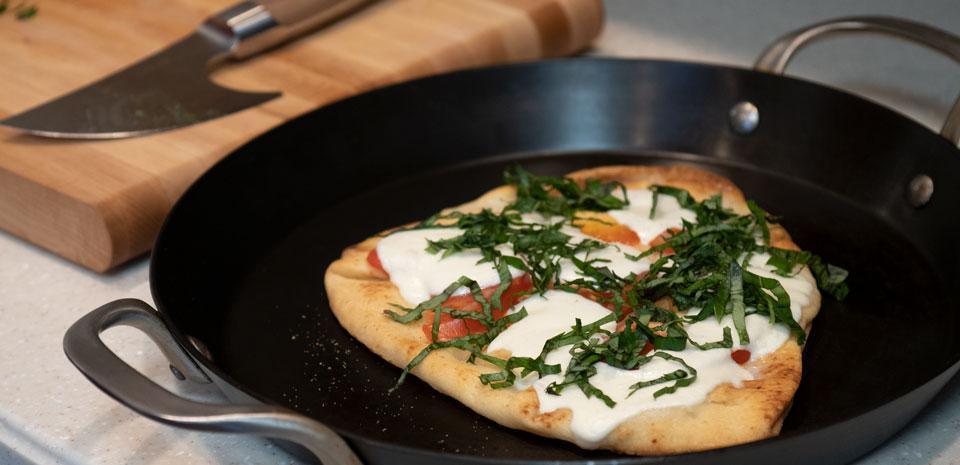 Simple 15-Minute Margherita Pizza for Busy Nights
Sep 01, 2020
Vegetarian & Vegan
An Ideal Dinner for Busy Nights
We're all busy in one way or another. It can be difficult during the hustle to find easy recipes that also taste delicious. We're here to help! We have an easy 15-minute margherita pizza recipe that great for busy weeknights. For this recipe, we used with the ICON Carbon Steel 12" Griddle as it's very sturdy and oven safe! 
RECIPE
Naan Bread
Roma Tomatoes
Mozzarella Cheese
Fresh Basil Leaves
3 Garlic Cloves, minced
Olive Oil
Balsamic Vinegar 
DIRECTIONS
Preheat oven to 350°F
While oven preheats, combine minced garlic and oil into a small dish and mix.
Place the Naan bread on the pan and brush the top with garlic/oil mix.
Place in the oven for 5 minutes.
While bread is baking, slice mozzarella cheese and tomatoes.
Remove bread from the oven and place tomato slices and mozzarella cheese in layers with salt and pepper in between.
Place into the oven to bake for 5 minutes.
Once the baking cycle is complete, turn the oven up to broil and let the pizzas bake for an additional 2 to 3 minutes so the cheese bubbles. Watch to avoid burning!
Remove pizza from the oven and let it sit for a couple minutes.
Chop basil leaves (chiffonade recommended) and decorate the pizza.
Combine some balsamic vinegar with garlic/olive oil mixture and drizzle on top if desired.
Check out the video below and learn how to chiffonade basil for a beautiful presentation. We used the Carl Mertens 5" Herb Knife to complete the task!
Quick, easy, and very delicious, this 15-minute margherita pizza is made to please! At J.L. Hufford, we're believers that quality gourmet cookware creates delicious meals. We're passionate about matching you with the best cookware, cutlery, and kitchen electrics that fit your lifestyle. We hope you enjoy!