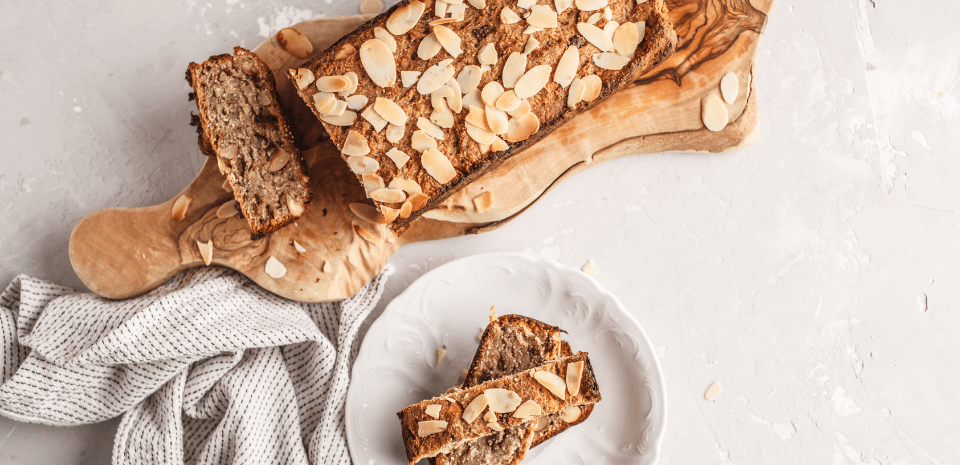 Classic Banana Bread and a Twist!
Apr 23, 2021
Vegetarian & Vegan
Spring has arrived but nature threw us for a little curve here in Indiana this week! As you may know, or even experienced, we got a bit of snow in the beginning of the week and some parts of the Midwest got up to 6 inches. I decided that a cozy way to warm up was to make a steaming loaf of banana bread. It turned out so well I wanted to share it with you all! Read on for a classic banana bread recipe as well as a healthier recipe.
The Classic Banana Bread
Ingredients:
1 cup granulated sugar
8 tbs (1 stick) unsalted butter, room temperature
2 large eggs
3 overly ripe bananas
1 tbs milk
1 tsp ground cinnamon
2 cups all purpose flour
1 tsp baking powder
1 tsp baking soda
1 tsp salt
Directions:
1) Preheat the oven to 325 degrees and grease a 9x5x3 inch loaf pan.
2) Cream the sugar and butter in a large mixing bowl until light and fluffy. Add the eggs one at a time, beating well after each addition. 
3) In a small bowl, mash the bananas with a fork. Mix in the milk and cinnamon. In another bowl, mix together the flour, baking powder, baking soda and salt. 
4) Add the banana mixture to the creamed mixture and stir until combined. Add dry ingredients, mixing just until flour disappears. 
5) Pour batter into prepared pan and bake 1 hour to 1 hour 10 minutes, until a toothpick inserted in the center comes out clean. Set aside to cool on a rack for 15 minutes. Remove bread from pan, invert onto rack and cool completely before slicing. 
6) Enjoy each slice in your favorite way!
Healthy Twist Banana Bread
Ingredients:
1/3 cup melted coconut oil, extra-virgin olive oil, or vegetable oil
½ c honey or maple syrup
2 eggs
1 cup mashed overly ripe bananas, equal to 2-3 bananas (slightly brown and soft)
¼ cup milk of choice or water
1 tsp baking soda
1 tsp vanilla extract
½ tsp salt
½ tsp ground cinnamon
1 ¾ cups white whole wheat flour or regular whole wheat flour
Directions:
Preheat oven to 325 degrees Fahrenheit (165 degrees Celsius) and grease a 9×5-inch loaf pan.
In a large bowl, beat the oil and honey together with a whisk. Add the eggs and beat well, then whisk in the mashed bananas and milk. (If your coconut oil solidifies on contact with cold ingredients, simply let the bowl rest in a warm place for a few minutes, like on top of your stove, or warm it for about 10 seconds in the microwave.)
Add the baking soda, vanilla, salt and cinnamon, and whisk to blend. Lastly, switch to a big spoon and stir in the flour, just until combined. Some lumps are ok! If you're adding any additional mix-ins, gently fold them in now.
Pour the batter into your greased loaf pan and sprinkle lightly with cinnamon. If you'd like a pretty swirled effect, run the tip of a knife across the batter in a zig-zag pattern.
Bake for 55 to 60 minutes, or until a toothpick inserted into the center comes out clean (typically, if I haven't added any mix-ins, my bread is done at 55 minutes; if I have added mix-ins, it needs closer to 60 minutes). Let the bread cool in the loaf pan for at least 10 minutes. You may need to run a butter knife around the edges to loosen the bread from the pan. Carefully transfer the loaf to a wire rack to cool before slicing.