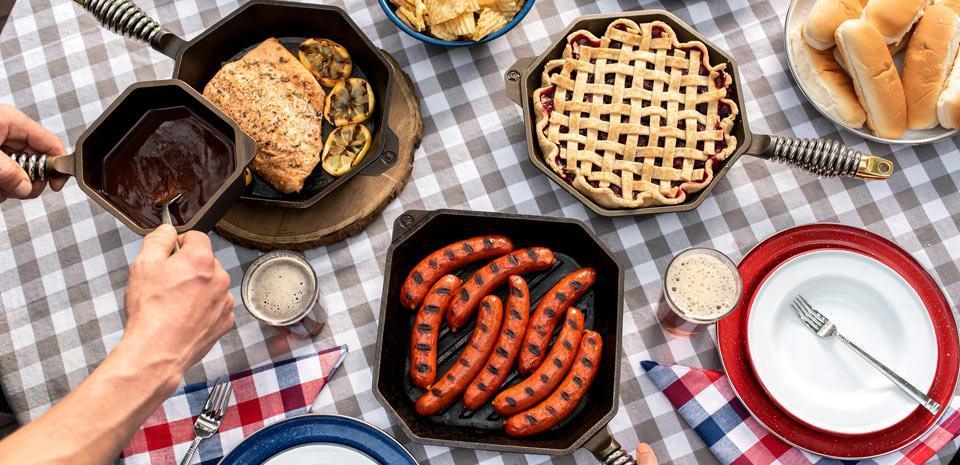 6 Reasons Why You Should Cook with Cast Iron on the Grill
Jun 23, 2020
Tips & Tricks
Grilling is a fun and classic way of cooking your favorite foods, and is a summertime tradition. The art of grilling has existed since the domestication of fire (over 500,000 years ago!), but the backyard grilling we know and love today only started in the 1950's, when families were moving into the suburbs and hosting block parties and barbecues for their neighborhood. Times were simpler then, but grilling is still a crowd favorite. 
Cooking with a cast iron skillet is also a popular way of cooking delicious foods, so why not pair it with grilling? It might seem redundant to cook with a cast iron and a grill, but there are many reasons why it's significantly better to grill with a cast iron. Here are six reasons why.
1. Your can bake on the grill
With a cast iron, it becomes possible to bake on a grill. Pizza, biscuits, breads, even cakes can all be cooked in a cast iron on a grill because of the cast iron's ability to retain heat evenly. With their relatively short baking time, have some fun and bake your bread on the grill! Your neighbors won't believe you when you tell them. 
2. Sear your meat like a pro
Burgers taste great when cooked on a grill, but they taste better when grilled in a cast iron on the grill. I know what you're thinking, "But there won't be any grill marks on the burger, so what's the point?" We love some good grill marks, that's why we recommend the FINEX 15" Cast Iron Lean Grill Pan. It will give you that perfect sear AND grill marks. We recommend seasoning the pan before use to get that perfect, even sear. The juices will also sit in the pan, which means more flavor and less flare ups. You can also sear steaks on the grill too with a grill pan, and you won't have to air out your kitchen when you do so!
3. Grill your seafood
Grilling seafood can be tough. Often times, the meat is so delicate that they stick to the grill or crumble to pieces. This is why a cast iron grill pan would be very helpful. You can get that steamy, grilled taste of your filet or scallop but without the stick or crumble. 
4. Turn your grill into a smoker
One great reason to use a cast iron is to turn it into a smoker. Put soaked wood chips into a cast iron skillet and place it right onto the charcoal. The cast iron will slowly burn the wood, making your grill an inexpensive and effective smoker. We recommend the FINEX 10" Cast Iron Grill Pan, Grillet. This "grillet" can be versatile for all your grilling needs.
5. Add smokiness to your sauces
When your grilling your favorite foods, it's the perfect opportunity to add a smokey flavor to your sauces. Cook your pulled pork in a grillet and you can taste the sweet, smokiness in your barbecue sauce. Give your food something a little extra, and you'll never grill without a cast iron again.
6. Grill your vegetables with ease
We love a good, grilled vegetables, but grilling them can be difficult. A grill basket could work, but we recommend using the FINEX 12" Cast Iron Grill Pan. This pan is perfect for getting that grilled taste of veggies without having them fall through or clump in a basket. With two handles (wear oven mitts!) you can shake up the pan to avoid the use of a spatula. 
Hopefully these reasons will convince you too cook with a cast iron on the grill. FINEX offers our most reliable cast irons for grilling, and you can read more about their high quality products by clicking here. Summer doesn't last forever, so make the most of it by putting your cast iron on a grill and experiencing something new, and delicious!