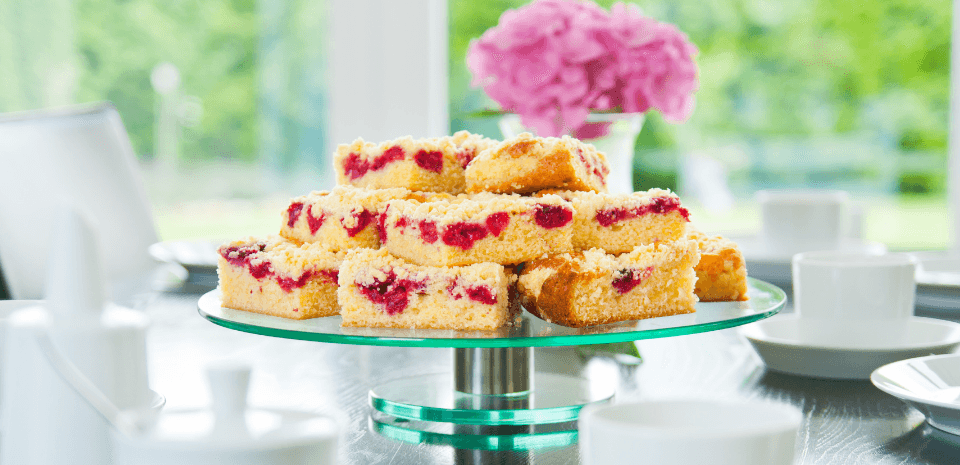 Raspberry Coffee Cake
Raspberry Coffee Cake
What is the best way to wake up? That's easy, a coffee cake and a cup of your favorite coffee! Everyone loves a sweet treat to go with their coffee to help enjoy the morning. This Raspberry Coffee Cake is delicious and easy to make! It was a finalist in the 1990 Wisconsin Berry Recipe Contest and is full of homestyle flavors.
Prep Time: 20 minutes      Cook Time: 40 minutes      Total Time: 1 hour
Ingredients:
Cooking spray
1 3/4 cups all-purpose flour plus more for pan
1 cup granulated sugar
2 teaspoons baking powder
1/4 teaspoon baking soda
1/2 teaspoon salt
1 cup plain Greek yogurt (full fat)
1 large egg
1 teaspoon vanilla extract
1/2 cup vegetable oil
1 bag (10-ounce) frozen raspberries, thawed and drained
1/4 cup all-purpose flour
1/4 cup granulated sugar
1/2 cup chopped pecans
2 tablespoons butter, softened
Lemon zest
Instructions:
Preheat the oven to 350 degrees. Butter an 11 x 7 inch baking pan (we recommend this stainless steel lasagna pan) with butter or margarine, then dust with flour. Set aside. Do not spray with an aerosol can, it can damage the non-stick coating.
Combine the flour, sugar, baking powder, baking soda and salt in a large mixing bowl and set aside.
Combine yogurt, egg and vanilla extract in a small bowl. Pour oil into the yogurt mixture. (You don't need to stir, you will stir it with the other ingredients.)
Add the yogurt/oil mixture to the dry ingredients and stir until combined, being careful not to overmix. Pour into your prepared pan and gently smooth the top for an even amount around the pan.
Sprinkle raspberries over batter.
Combine flour, sugar, pecans, and butter in a small bowl and mix until crumbly. Sprinkle over the top of the raspberries for a nice cover.
For a hint of a lemon flavor, sprinkle some lemon zest to the top of the cake before baking.
Bake for 35 to 40 minutes. Make sure to check it as it gets closer to being finished!
Most importantly, enjoy!
Thank you to From A Chef's Kitchen for this wonderful Coffee Cake idea!