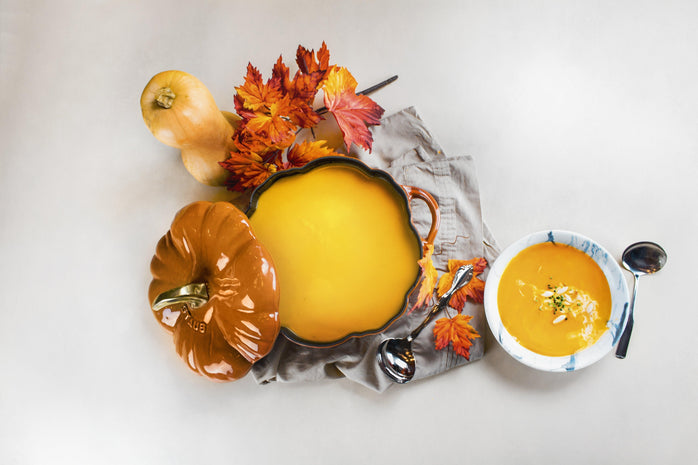 Pumpkin Soup with Staub
It's that time of year again! The weather and leaves are changing, and the best part of fall? It's everything pumpkin season! We were super stoked to get ahold of the
Pumpkin Cocotte
from
Staub
because of its unique shape and beautiful deep orange and
black
color options. To celebrate this wonderful season, we used the cocotte to make a delicious pumpkin soup! This simple recipe allowed us to test the features of Staub's enameled cast iron cookware while getting us geared up for fall (especially Halloween)!
Items needed
3.5 Qt. Staub Pumpkin Cocotte
Blender
Recipe: yields 6-8 servings
3 lb Pumpkin cut into chunks
3 Medium onions
3 Cloves of garlic
4 C. vegetable stock
1.5 C. milk (almond or soy for dairy-free)
Salt and pepper to taste
Additional garnish options: bacon bits, roasted pumpkin seeds, goat cheese, coconut cream, sour cream, parsley, and cinnamon.
Directions
Place pumpkin chunks, onion, garlic, vegetable stock, and milk inside the cocotte and bring to a boil.
Once it's boiling, reduce heat and let it simmer until the pumpkin is tender
Remove from heat and pour soup into your blender and puree
Place pureed soup back into the cocotte and add salt and pepper to taste
Add desirable garnishes
Enjoy!
There you have it; a wonderfully delicious soup that's perfect for autumn. We were impressed with the cocotte's even heat distribution and excellent heat retention. The high heat retention allows your soup to stay warm long after you remove it from your stove. If you're hosting a party, the cocotte will also act as a beautiful, eye-catching decoration piece.
If you're not a fan pumpkin fan, try it with your favorite butternut squash recipe. Either way, you're still making something delicious in the beautiful Pumpkin Cocotte! For more information about Staub cookware, please visit our
website
!