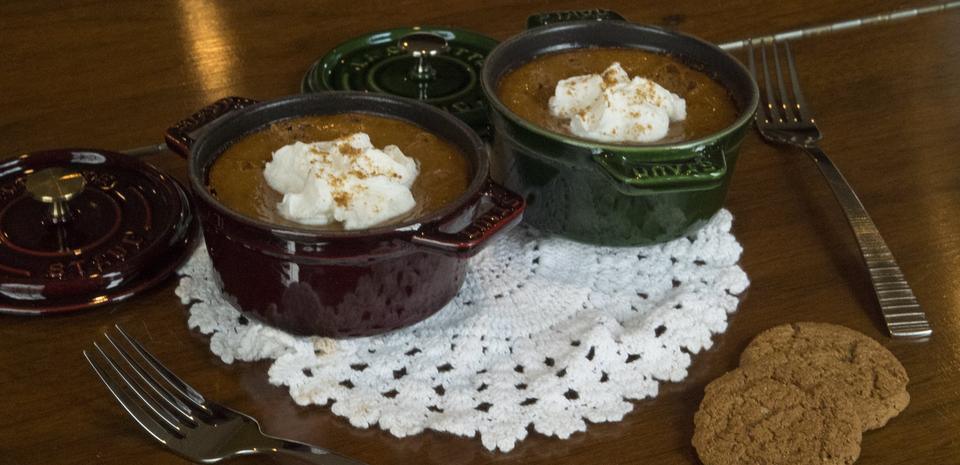 Personal Pumpkin Pies
We hope you're having a fantastic Monday! Can you believe we're just a few weeks away from Halloween? Better yet, can you believe we're at the beginning of the holiday season, which means the beginning of our Holiday Recipe series?! We can't, either. Wrena has been rocking it and working hard at helping everyone plan their holiday meals. Today she has a fantastic pumpkin pie recipe made in Staub mini cocottes. Check out Wrena's how-to video below, along with Wrena's wonderful recipe!
GINGERBREAD CRUST
1/3 C. butter, melted
1 1/4 C finely crushed gingersnaps
Directions
Preheat oven to 375 degrees. 
Use a blender to finely crush ginger snaps. (We used the

 

Vitamix

 

Pro 750 and a Dry Container)
Combine butter and gingersnaps in a med. mixing bowl; toss to mix well. 
Divide evenly among 6 mini-cocottes. 
Press crust onto the bottom of each cocotte. 
Bake for 4-5 min or until edge is lightly browned. Set aside.
Turn oven up to 425 Degrees F.
PUMPKIN PIE FILLING
3/4 C. Graduated Sugar
1/2 tsp. salt
1 tsp. ground cinnamon
1/2 tsp. ground ginger
1/4 tsp. ground cloves
2 Large Eggs
1 15oz can of 100% Pure Pumpkin Puree
1 12 fl oz can of evaporated milk
Directions
Mix together sugar, salt, cinnamon, ginger and cloves in a small bowl. Set Aside.
In a large bowl, beat together the eggs. Stir in pumpkin and sugar-spice mixture. 
Once mixed, gradually stir in the evaporated milk.
Divide filling evenly into the 6 mini-cocottes.
Place mini-cocottes on a baking sheet. Bake in a 425 Degree F oven for 10 minutes. 
Reduce temperature to 350 degrees; bake for 25-30 minutes or until knife inserted near center comes out clean. 
Cool on wire rack for 2 hours. 
Serve immediately or refrigerate.
There you have it, a simple and honestly cute pie you can serve your guests. We love Staub Cast Iron as this cookware evenly distributes heat to create consistent results throughout recipes. At J.L. Hufford, we are committed to providing chefs with the perfect cookware, cutlery, and accessories that fit your lifestyle. Visit our website and see the thousands of products we carry. Please contact us if you have any questions. We are happy to help!