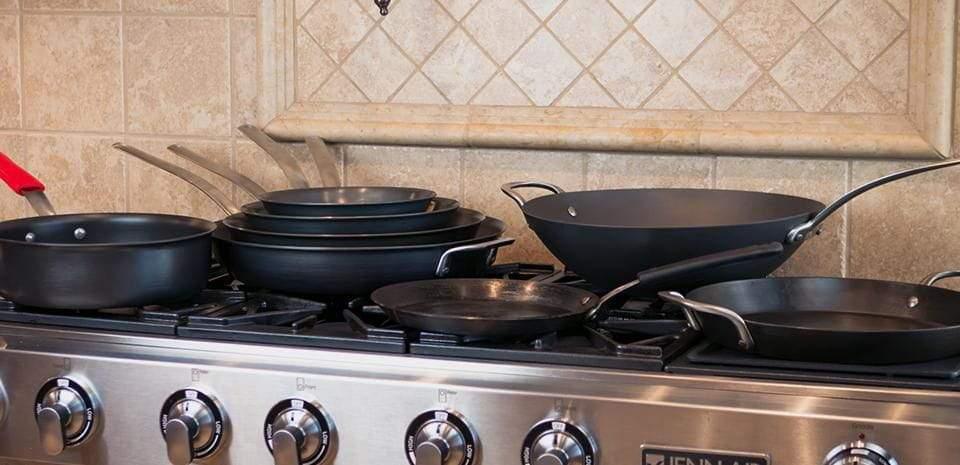 Recipes to Cook in ICON Carbon Steel Pans
Oct 19, 2020
Kitchen Essentials
Get inspired by these recipes from around the web, featuring carbon steel ICON cookware! ICON Cookware is designed to sear, fry, and bake at high temperatures without chipping, peeling, or flaking. Check out these delicious recipes and learn about the benefits ICON pans have to offer!
Pan-Seared Chicken Thighs with Chanterelle Mushrooms - Diet Assassinista
Featuring crispy chicken thighs and golden chanterelle mushrooms, this one-pan recipe is sure to be a hit no matter the occasion.
Mushroom Onion Melts - Macheesmo
Cheesy, savory, and vegetarian, these mushroom melts have it all. The easy prep means you can have delicious sandwiches in just twenty minutes!
15-Minute Margerhita Pizza - J.L. Hufford
This simple recipe makes a delicious Margherita pizza in just 15 minutes. It's perfect for busy weekday nights. The ICON griddle was perfect to use as a baking sheet!
Pan-Seared Chicken Breast with Garlic Thyme Cream Sauce - Fox Valley Foodie
Flavorful chicken breasts with a savory cream sauce make an excellent dinner, and pan-searing is extra easy since the skillet is oven-safe.

One-Pan Kielbasa and Fried Cabbage - Taste & See
Another quick one-pan dish, this kielbasa and cabbage meal features tangy mustard and ale flavors to really make your mouth water.
Skillet Chicken Fajitas - Maria Makes
Flavorful marinated chicken makes these classic fajitas stand out in a crowd.
Paleo Pineapple Pad Thai - Plaid and Paleo
This health-conscious pad Thai recipe makes perfect use of the large ICON wok, and pairs sweet pineapple and salty sun butter.
Pan Seared Cod with Shallots and Fennel - Unicorns in the Kitchen
A simple cod recipe that pairs the delicate fish with a hearty fennel and mushroom sauce.

Pan Roasted Pork Tenderloin - Kylee Cooks
A colorful twist on a classic recipe, the roasted pork tenderloin makes excellent use of the sauté pan. This 30-minute meal is perfect for a week-night dinner!