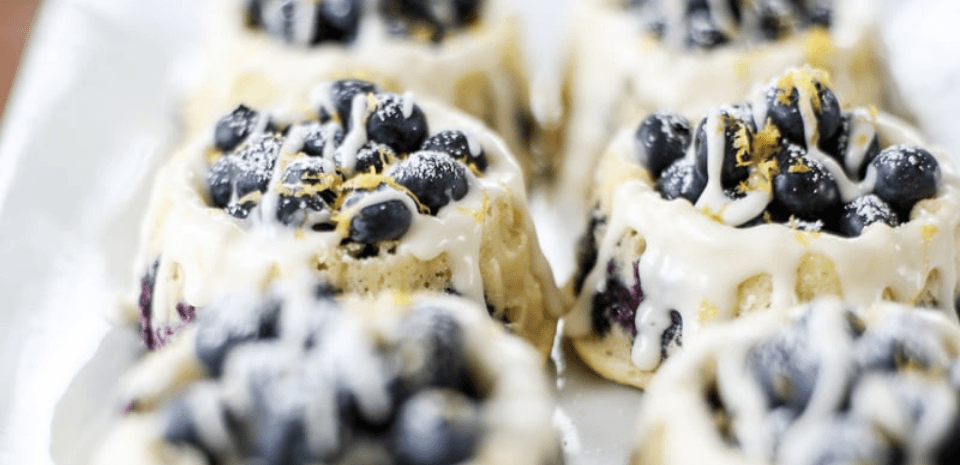 Easter Blueberry Shortcakes
Easter Blueberry Shortcakes
Is there anything that says Spring has arrived and summer is coming more than fresh fruit? One of my all time favorite fruits are blueberries, although I must say I LOVE fruit so it is hard to pick just one. The thing I love about Blueberries are they are so versatile! You can put them in pancakes, smoothies, eat them as a snack, or put them in a dessert for a sweet twist.
Ingredients:
1 cup flour
2.3 cup sugar
1 ½ tsp baking powder
¼ tsp salt
½ tsp vanilla
1/3 cup softened butter
1 egg
¾ cup fresh blueberries
Lemon Glaze:
1 cup confectioners sugar
1 tbsp fresh lemon juice
3 tbsp milk
In a bowl, whisk together 1 cup confectioners' sugar, 1 tbsp of fresh lemon juice, and 2-3 tbs milk. Be sure to only add the milk 1 tbsp at a time to achieve the best consistency.
Directions:
Preheat the oven to 350 degrees
Spray your pan with cooking spray, coat in flour, and shake off the excess. For this recipe, we recommend using a muffin tin or if you have it, a shortcake tin.
Whisk together the flour, sugar, baking powder, and salt in a large bowl. Then add the vanilla, softened butter, milk, and egg. With an electric mixer, beat on medium speed for about two minutes. Gently stir in the fresh blueberries.
Divide the batter evenly among the muffin tin. Each cavity should be about 3/4 full.
Bake the cakes for 18-20 minutes. Allow the cakes to cool completely in the pan before attempting to remove them. Gently loosen each cake with your fingers or a butter knife then gently flip the pan to fully release the cakes.
To serve, top each cake with blueberries. Then drizzle with lemon glaze and sprinkle with lemon zest and confectioners' sugar.
Thank you to Inspired By Charm for the wonderful inspiration of this sweet treat!