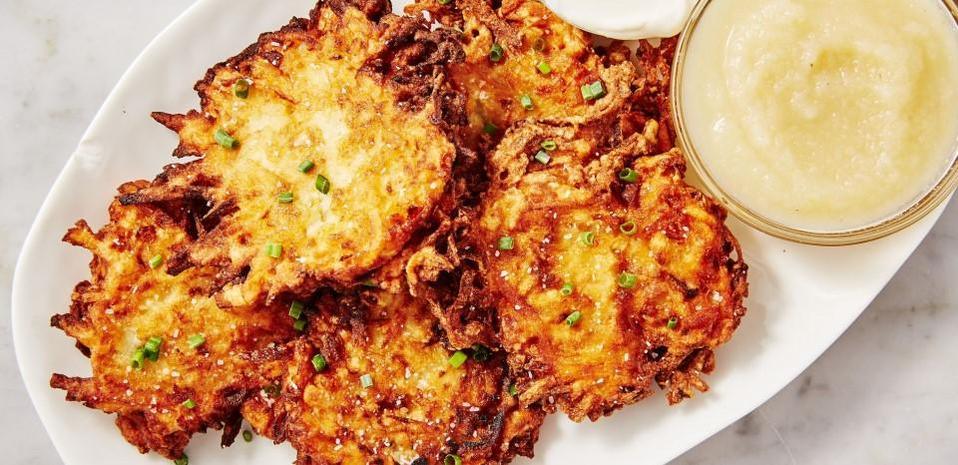 8 Different Ways to Cook Latkes
Even if you do not celebrate Hanukkah, you have probably had a latke in your life. Latke is Yiddish for "pancake," and potato latkes are traditionally fried in oil to celebrate the Chanukah miracle. They're a delicious potato pancake, and the most classic latkes are great on their own. That being said, there's a lot of versatility in latkes, and there are countless ways to change up this traditional dish. We've provided eight different latke recipes for the eight nights of Hanukkah! Try them out!
. . .
Traditional Latkes
Ingredients
5 large potatoes, peeled
1 large onion
3 eggs
1/3 cup flour
1 tsp. Salt
1/4 tsp. pepper
3/4 cup oil for frying
Directions
Grate potatoes and onion on the fine side of a grater, or in a food processor; or put in a blender with a little water.
Strain grated potatoes and onion through a colander, pressing out excess water. Add eggs, flour, and seasoning. Mix well.
Heat 1/2 cup oil in an

 

ICON Skillet. Lower flame and place 1 large tablespoon batter at a time into hot sizzling oil and fry on one side for approximately 5 minutes until golden brown. Turn over and fry on other side 2 to 3 minutes.
Remove from pan and place on paper towels to drain excess oil. Continue with remaining batter until used up, adding more oil when necessary.
Serve with applesauce or sour cream on the side.
. . .
Apple Latkes
Ingredients
2 eggs, well-beaten
1 1/2 cups of orange juice, milk or yogurt
2 cups of all-purpose flour
1 teaspoon of baking powder
A dash of salt
1/4 to 1/2 cup of sugar depending upon how sweet you want them to be
3 medium apples, peeled and grated coarsely
Vegetable oil for frying
Directions
Begin by heating the oil over medium heat while preparing the latkes.
Mix the orange juice, yogurt or milk in a bowl with the two eggs. Beat them well to incorporate them.
Combine the flour, baking powder, salt and sugar in a separate bowl and stir well. Add these ingredients to the egg mixture. Then add the grated apples. With a large tablespoon, place one spoon of the latke mixture into the heated oil at a time. Cook these for about two minutes on each side. You want them to be slightly golden to ensure they have a little bit of crunch.
Place the finished latkes on paper towels or cooling racks to drain. Serve while warm.
. . .
Sweet Potato Latkes
Ingredients
1 1/2 pounds orange-fleshed sweet potatoes (about 2 medium)
1 medium onion
2 large eggs
3/4 teaspoon salt
1/4 teaspoon freshly ground black or white pepper
5 tablespoons flour
about 1/2 cup oil
1/4 cup chopped cilantro
Directions
Peel sweet potatoes. Grate sweet potatoes and onion, using grating disc of food processor or large holes of grater.
Transfer to a large bowl. Beat eggs with salt and pepper and add to potato mixture. Add flour and mix well. 
Heat 1/4 cup oil in heavy 10- to 12-inch skillet, preferably non-stick.
Fill 1/4-cup measure with sweet potato mixture, pressing down to compact.
Turn out and mound into skillet. Quickly form 3 more mounds. Flatten each with back of spoon so each latke is about 2 1/2 to 3 inches in diameter, pressing down with a

 

spatula.
Cook 3 minutes on the first side, then carefully flip. 2 minutes on the second side. Cook 4 pancakes at a time, adding more oil after each fry. Makes kind of a mess, but worth it. Transfer to paper towels to blot. Then serve.
. . . 
Vegan Latkes
Ingredients
2 cups packed, grated, and drained potato
1/3 cup unbleached all purpose flour
3 tbsp sliced green onion
3 tbsp unsweetened nondairy milk
1 tbsp cornstarch
1 1/4 tsp salt
1/2 tsp baking powder
black pepper, to taste
vegetable oil, for frying (canola, olive, or coconut all work well)
For sour cream
1 cup raw cashews, soaked for at least 4 hours if you do not have a high-powered blender
1/2 cup water
1 tablespoon lemon juice, or more if needed
1 teaspoon apple cider vinegar
Heaping 1/4 teaspoon fine sea salt
1/4 teaspoon Dijon mustard
Directions
Grate potatoes and squeeze out as much moisture as you can using paper towel.
Combine 2 cups grated potato, flour, green onion, almond milk, cornstarch, salt, baking powder, and black pepper (optional: add dill and vegan cheese.) Mix well to develop the gluten in the flour (which helps with binding.)
In a frying pan, preheat a generous amount of vegetable oil over medium heat.
Spoon 1/4-1/3 cup of potato mixture into the pan. Use a spatula or pancake flipper to flatten the patty to about 1/4″ thick. Fry until golden brown, flip, and fry the other side. Drain excess oil on paper towel if necessary. Serve with your favorite toppings.
Sour Cream Directions
If you soaked your cashews, drain and rinse them until the water runs clear.
In a blender, combine the cashews, water, lemon juice, vinegar, salt, and mustard. Blend until the mixture is smooth and creamy, stopping to scrape down the sides as necessary. If you're having trouble blending the mixture, or would prefer a thinner consistency, slowly blend in up to ½ cup additional water, as needed.
Taste and add an additional teaspoon of lemon juice if you would like more tang, or additional salt if a more intense flavor is desired. Serve immediately or chill the sour cream for later.
Leftovers keep well, chilled, for about 5 days. The sour cream will thicken up a bit more as it rests; you can thin it by whisking in a small amount of water later, if necessary.
. . .
Zucchini Latkes
Ingredients
3 medium zucchini, shredded (about 4-1/2 cups)
1 teaspoon salt, divided
2 eggs, beaten
1 small onion, grated
1/4 cup dry bread crumbs
1/8 teaspoon pepper
Oil for frying 
Directions
In a large bowl, toss zucchini and 1/2 teaspoon salt; let stand for 10 minutes. Squeeze zucchini dry. Stir in the eggs, onion, bread crumbs, pepper and remaining salt.
In a large skillet, heat oil over medium heat. Drop batter by tablespoonfuls into oil; press lightly to flatten. Fry for 2 minutes on each side or until golden brown.
. . .
Cheesy Latkes
Ingredients 
Oil for frying
1 teaspoon garlic or 2 garlic cloves
1/2 teaspoon pepper
1/4 teaspoon salt or tamari
2 potatoes
2/3 lb farmer's cheese, dry cottage cheese, or dry feta
1/4 teaspoon baking powder
2 1/2 Tablespoons matzah meal or flour
2 eggs 
Directions
Peel, cube, and boil potatoes. Mash. Add cheese.Beat eggs well and add.
Add matzoh meal or flour, baking powder, and spices.
Heat oil until hot and put large spoonful for each pancake. Cook until brown and flip.
. . .
Waffle Latkes
Ingredients
2 cups shredded russet potato (about 8 ounces)
1/2 cup shredded sweet onion
1/2 teaspoon salt
1 large egg, lightly beaten
1/4 teaspoon ground pepper
Olive oil cooking spray
Directions
Toss potato, onion and salt in a large bowl. Transfer to a sieve set over a medium bowl; let drain for about 15 minutes.  
Preheat a Chef's Choice Waffle Iron. Squeeze the potato mixture, a handful at a time, over the bowl to release excess moisture (don't oversqueeze—some moisture should remain).
Pour out the liquid and return the squeezed potato mixture to the bowl. Stir in egg and pepper. Liberally coat the hot waffle iron with cooking spray. Place a heaping tablespoon of the potato mixture in each quadrant and spread each to a 2-inch-wide circle.
Close the lid and cook the latkes until golden brown, 6 to 8 minutes. Repeat with the remaining mixture.
. . .
Butternut Squash Latkes
Ingredients 
1 (2 1/2 pound) butternut squash (peeled, seeded and cut into large chunks)
1 medium onion (trimmed, peeled and quartered)
2 large eggs
1/3 cup all-purpose flour
1 teaspoon fine sea salt
1/4 cup extra virgin olive oil (divided, plus extra for drizzling)
Directions
Preheat the oven to 425 F. Line two large, rimmed baking sheets. Set aside.
Using a box grater or a food processor fitted with a shredding disc, grate the butternut squash and onion.
Transfer the shredded vegetables to a large bowl. Use a clean tea towel or paper towels to remove some of the moisture from the shredded vegetables.
Add the eggs and mix well. Sprinkle evenly with the flour, salt, and herbs (if using), and mix well.
Drizzle 2 tablespoons of olive oil on each of the parchment lined baking sheets. Use a pastry brush or the back of a spoon to spread the oil evenly over the surface of each sheet. Using a 1/4 cup measure or soup spoon, scoop up the batter and drop onto the baking sheets. Flatten the latkes slightly.
Slide the baking sheets into the oven and cook for 15 minutes, or until the undersides and edges begin to brown.
Remove from the oven, carefully flip the latkes with a spatula, and bake for 10 to 12 minutes more, or until the latkes are cooked through and browned on both sides.
 Which one of these was your favorite? Let us know by tagging us on Instagram, Twitter, or Facebook